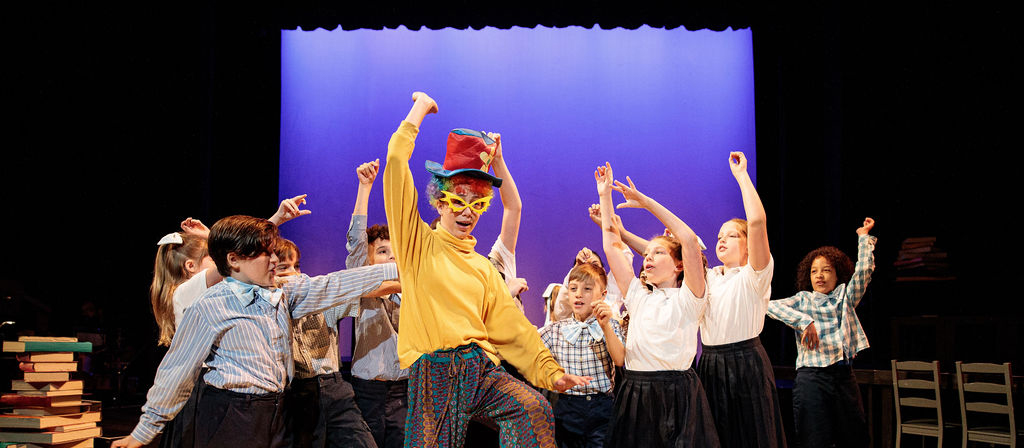 Good theatre makes good people!
Join The Young Company and explore the art of movement, music, and expression. 
A LA CARTE WEEKLY PROGRAM

July 10 – August 11, 2023
for students entering grades 1 to 3 and grade 4 upon request
Monday-Friday, 8:30am-2:30pm
Location Weeks 1 to 3: Stoneham Central Middle School
Location Weeks 4 & 5: Greater Boston
Stage
The Overture program uses different weekly themes to introduce our youngest performers to acting, dancing, singing, and design in a fun and supportive environment! Each day, students are exposed to various theatrical techniques, exercises, and games to expand their confidence and imagination.
Using these developed skills, students work with our staff to create their own individualized characters and an original play. The play, combined with a dance and song, is rehearsed, and then shared for friends and family on Friday.
Limited to 20 students each week, Overture is a five-week à la carte program, meaning that you can enroll in one week, five weeks, or anything in between!
Subject matter and materials won't be repeated; a student who attends only one week won't feel out of place, and a student who attends all five weeks will be continually challenged!
Dates: July 10-14
Theme: The Superhero Academy
Movement: Hip-Hop
Craft: Costumes
Dates: July 17-21
Theme: Wonderful and Wacky Oz
Movement: Musical Theatre Dance
Craft: Puppets
Dates: July 24-28
Theme: Time Travel Squad
Movement: Disco
Craft: Lights and Shadow Puppets
Dates: July 31-August 4
Theme: Marvelous Mystery Solvers
Movement: Tap Dancing
Craft: Mask Making
Dates: August 7-11
Theme: Silly Dr. Seuss
Movement: Jazz
Craft: Set Design
TUITION, REGISTRATION & FINANCIAL AID
Tuition: $500 Per Week
Additional Week Discount: All additional weeks added beyond your first week are discounted to $475 per week.
Please don't let the ability to pay be a barrier to participation! FINANCIAL AID and CUSTOM PAYMENT PLANS are available through an easy application process.
To Register you may:
Register online (SINGLE WEEK or MULTIPLE WEEKS) and pay in full
Print out and submit a REGISTRATION FORM to our Box Office which includes one of the following:

$500 Deposit as part of our 3 Installments Payment Option
$100 Deposit AND a Financial Aid Application
$100 Deposit AND a Custom Payment Plan Form
For an additional fee, students in Overture, Act 1, and Act 2 may enroll in our aftercare program and be picked up as late as 5:00pm at Greater Boston Stage Company. The Aftercare staff run a variety of theatre games and crafting activities. More information regarding Aftercare and registration will be announced at a later date. 
If you have any questions, are curious about program specifics, or want to find out how our program can support your actor please reach out to education@greaterbostonstage.org.