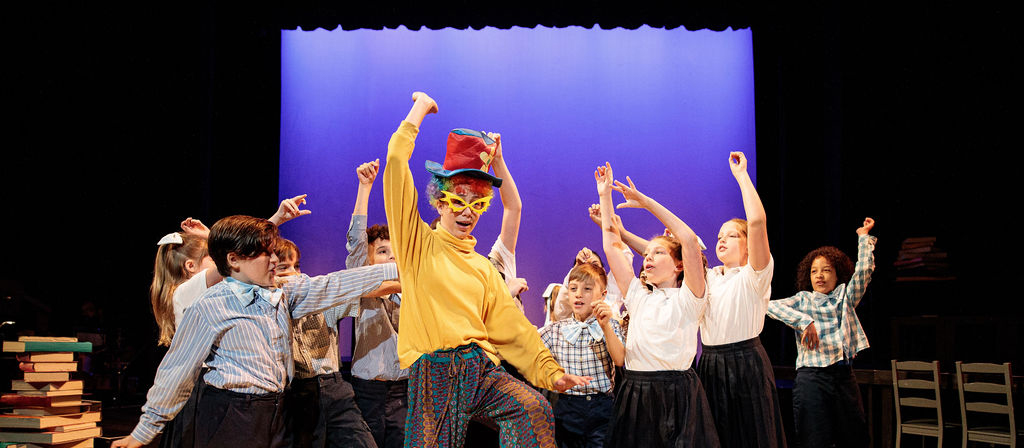 Winter Festival
Good theatre makes good people! Join The Young Company for Winter Festival and explore the art of movement, music, and expression. 
 Join us for a FREE Information Session November 22nd via Zoom.  Come and learn more about our performing arts programs for grades 4 – 12.  
Need help preparing for your audition? Come in for a free Audition Workshop! Acts 1 & 2 3:30-5:00pm Monday, November 28th. Acts 2 & 3 5:15-6:45pm Monday, November 28th.

ACTS 1 & 2 (Actors in grades 4-8)
Rehearsals: Mon/Wed/Fri 3:30pm-7:00pm
When powerful newspaper publishers raise prices at the newsboys' expense, the charismatic Jack Kelly rallies newsies from across the city to strike against the unfair conditions. Together, the newsies learn that they are stronger united and create a movement to fight for what's right. Inspired by the rousing true story of newsboys in turn-of-the-century New York City, and including the now-classic songs "Carrying the Banner," "Seize the Day," and "Santa Fe," Newsies JR. is a timeless story full of spirit and heart

ACTS 2 & 3 (Actors in grades 7-12)
Rehearsals: Mon/Wed/Fri 6:30-9:30pm, Sun 12:00-4:00pm
The stakes are higher than ever in this dynamic stage musical, as SpongeBob and all of Bikini Bottom face the total annihilation of their undersea world. Chaos erupts. Lives hang in the balance. And just when all hope seems lost, a most unexpected hero rises up and takes center stage. The power of optimism really can save the world!

ACT 3 (Actors in grades 10-12)
Rehearsals Tues/Thurs 5:30-9:30pm, Sun 4:30-9:30pm
When her father dies unexpectedly, graphic novelist Alison dives deep into her past to tell the story of the volatile, brilliant, one-of-a-kind man whose temperament and secrets defined her family and her life. Moving between past and present, Alison relives her unique childhood playing at the family's Bechdel Funeral Home, her growing understanding of her own sexuality, and the looming, unanswerable questions about her father's hidden desires. Fun Home is a refreshingly honest, wholly original musical about seeing your parents through grown-up eyes.
Tuition is paid after casting has been finalized. There is no cost to audition. 
We aim to remove financial barriers to participation. Each year, Greater Boston Stage Company's generous donors contribute to our Education Assistance Fund, which supports financial aid for students in The Young Company. While gifts typically range from 30% to 50%, more substantial aid can be given in specific circumstances. Given the extraordinary circumstances of the last two years, we are prepared for both an increase in individual aid requests and an increase in the amount requested. Please do not hesitate to utilize this program to help support you as you support your student. Payment plans are also available.
Free Information Session Via Zoom November 22nd
Free Audition Workshops November 28th
Auditions December 3rd & 4th
Callbacks December 5th & 6th
Casting December 9th -12th
Rehearsals January 2nd-31st
Tech February 1st – 9th
Performances February 9th – 18th