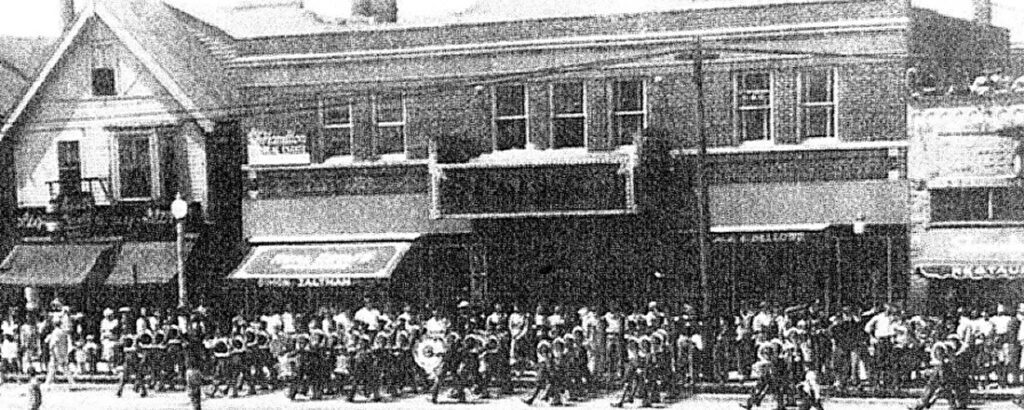 The History of Greater Boston Stage Company
Movies were silent when The Stoneham was born. Though early films lacked sound effects and spoken dialogue, they were usually shown with accompaniment by a harried piano player whose tunes suited the action.
A new era in the field of moving pictures, the talking and sound picture arrived at The Stoneham on Sunday, May 12, 1929. The renovation to sound placed a new screen at the front of the stage with the speaker behind it. It also caused an increase in ticket price, but for adults only. Amazingly, some people did not want sound, and for their benefit on two days a week The Stoneham offered a double feature—one picture with sound and the other silent.
The Great Depression and Beyond
Right on the heels of such great strides for The Stoneham came the Great Depression. The 1930s were bleak in Stoneham, but, like other movie houses, The Stoneham provided temporary relief from worries and fears of the future. In March 1933, The Stoneham even offered its patrons the privilege of writing an IOU for the 35-cent admission!
The 1940s were undoubtedly the golden years of movies at The Stoneham. Surrounded by a war-torn world filled with separations and anxieties, residents sought solace by watching dramas in the lives of others. Among the films enjoyed during this decade were Casablanca, The Lost Weekend, Mildred Pierce, and Miracle on 34th Street.
A New Beginning
After a quarter century of abandonment and dilapidation, The Stoneham was revived and restored, opening its doors once again December 1, 2000. The hard work of many months made it as up-to-date for the 21st century as it was for the 20th when it first opened. The marquee replicates the original box style installed in 1930. The rear stage wall still contains the original 1917 screen—a wooden surface painted black and silver.
Today, the building is home to Greater Boston Stage Company, a professionally producing regional theatre which is the only company founded within the past fifteen years ranked by the Boston Business Journal among the area's ten most popular performing arts organizations. It is consistently praised by critics and audiences for its superior caliber of production, it's connection to the communities it serves and its comfortable atmosphere. Greater Boston Stage Company continues the proud legacy of its predecessor—one where laughs flow freely, tears are occasionally shed, and a good time is had by all.